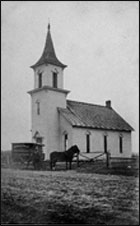 Almost as soon as the first settlers arrived in 1856-57, one of the first things done was the establishment of a church.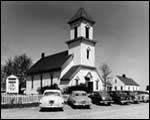 The first being the Hope Baptist Church with Nelson Frazier preaching the first sermon in an old log school. Their first pastor was Rev. C. P. Wilson who served from about 1868-1870. In 1892 land was purchased from Joseph and Mary Gregway where they built their Church. In 1962 their present church was built in Hope at 5525 North Hope Road. Their current pastor is Neil Wiggins.
The Hope United Methodist Church was started in the early 1860's. After meeting in homes for many years, a permanent church building was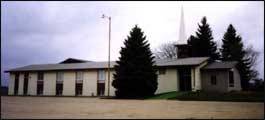 built in 1889. Their first pastor was Rev. C. H. Theobald who served from 1888-1891. Their church is located at 5278 North Hope Road and their current pastor is Patrick R. Poag.

In September, 1912 a Union Holiness Camp Meeting was held in Hope Township in a wooded area owned by Alden Raymond.

The meeting was held in a large tent with a sawdust floor and benches made from planks nailed to posts sunk into the ground. Music was provided by an organ which was brought by wagon. The tent was lit for the evening with mantel lanterns. The evangelists were Rev. J. A. Harvey of Seymour, Indiana; Rev. Clark Flohr of East Palestine, Ohio; Rev. F. Thomas of Chicago, Illinois; Rev. V. Buston of Grand Rapids, Michigan; Rev. C. L. Bradley of Berlin, Michigan; Mrs. Thomas Hartwell of Gladwin; and Rev. Wm Flock of Beaverton. Many different Sunday Schools and churches began after this Camp Meeting. One such church began in the old "Pansy Store" on the corner of Curtis and Middle Roads with Albertus C. Clark (my great-grandfather) as minister. Later ,as some of the people moved to Midland, the church moved also and they organized the Church of the Nazarene there.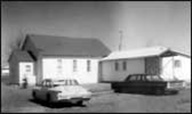 Hope Church of GodHope Church of GodThree other churches have been added since those early days. The first being the North Hope Church of God which started in 1924 as Cottage Prayer Meetings Louis Wagner was their first pastor. A permanent building was built in 1936 on land donated by the Grice family. In 1967 the old building was replaced with the present one which is located at 6424 Middle Road Their current pastor is Jim Parquette. Under his leadership, the name of the church as been changed to New Hope Community Church of God.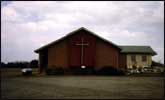 The Pilgrim Holiness Church, which was located in Hope, was started in the summer of 1945 with Albert Lacey as their pastor along with his wife Ruth. Originally they met in the Block School before a permanent church building was erected. Their early members included Blanche Smith, Ashley Mills, Margariete Smith, May Smith, Clara Mills, Earl and Margaret Thomas, Floyd and Gilbert Thomas, Robert Parlett, Harley and Mary Wells, Ida and William Borland, Ira and Nina Manges, Percy and Myrtle Sterling, and Earl and Mable Fillmore. Eventually the church was closed and the church made over as a house, likewise, the parsonage is now the home of Bruce Dundas.
Hope Fellowship ChurchThe Mt Hope Fellowship Church was founded in 1976 by their leader Buddy Dodge.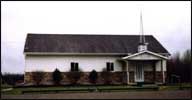 Originally, they met at the Midland Christian School until 1980 when they moved to Hope. They are located at 1352 East Curtis Road and Dan Shaefer is their current pastor.