Notice:
The Treasurer's Office will be closed on the following dates: Monday, March 27th and Wednesday, March 29th.
We will be monitoring all phone calls during this time.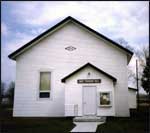 Thank you for taking the time to visit the Hope Township website. In the event that this is your first visit to our site, we would like to take a few moments to familiarize you with our township.
Hope Township is a community of twenty four (24) square miles centrally located in the northern part of Midland County. Hope Township, northwest of the City of Midland, is served by M-30 which runs along the western border of the Township. Hope Township is a Zoned community and experiencing moderate growth. The township primarily consists of rural residential and agricultural areas but also has some lake front property along the south side of Wixom lake. There is also a small amount of commercial and industrial property on the western side of the township along M-30.

Please take a few moments to scan through all the information we have provided about our township. The Township of hope is continuously growing and changing, much the same as our website, so please visit us as often as you can to keep up on all the latest. ENJOY YOUR TOUR OF OUR TOWNSHIP